For Educational Providers: Make your educational programs more appealing to nurses by having the ILNA Point Categories identified for your offerings. Complete the ILNA Coding Request form to be approved to include ILNA coding when promoting your program. Download the form here.
CNE or NCPD? The American Nurses Credentialing Center (ANCC), an accrediting body for nursing education, changed the term continuing nursing education (CNE) to nursing continuing professional development (NCPD). ANCC-approved educational providers began using the new term in 2020. ONCC accepts both CNE and NCPD for initial certification or renewal points as long as the credit is approved by an acceptable accreditor of nursing education.
Acceptable Approval Bodies/Providers of Nursing Continuing Education
Continuing education programs in nursing must be approved by an acceptable accreditor to be used for initial certification or renewal points. Refer to this list of acceptable approvers and providers. The certificate awarded for a program must contain an accreditation statement such as: "The [name of organization] is accredited as a provider of nursing continuing education by the [name of accrediting body]." You may also find this information in the promotional information for a program.
American Academy of Nurse Practitioners (AANP)
American Association of Critical Care Nurses (AACN)
American Association of Nurse Anesthetists (AANA)
American Nurses Association (ANA)
Any agency, organization or educational institution accredited by the American Nurses Credentialing Center (ANCC)
Association of Pediatric Hematology Oncology Nurses (APHON)
Association of Women's Health, Obstetric, and Neonatal Nurses (AWHONN)
European Oncology Nursing Society
International Association for Continuing Education & Training (IACET)
Joint Accreditation Interprofessional Continuing Education - The program must specify the number of credit hours provided by ACCME, ANCC, or ACPE.
Korean Oncology Nursing Society
Medom Nursing CE
National Association of Neonatal Nurses (NANN)
National Association of Nurse Practitioners in Women's Health (NPWH)
National Association of Pediatric Nurse Associates and Practitioners (NAPNAP)
National League for Nursing (NLN)
Oncology Nursing Society (ONS)
Royal College of Nursing
Royal College of Nursing, Australia
State Boards of Nursing in Alabama, California, Florida, Iowa, Kansas, Kentucky, Louisiana, Nevada, Ohio, and West Virginia
State Nurses Associations
Wisconsin Society for Health Education and Training (WISHET)
Examples of Acceptable Continuing Medical Education (CME)* Providers
Accreditation Council for Continuing Medical Education (ACCME)
Accreditation Council for Graduate Medical Education (ACGME)
American Medical Association (AMA)
American Osteopathic Association (AOA)
Mainpro
Royal College of Physicians and Surgeons of Canada
State Medical Societies
Acceptable Continuing Pharmacy Education (CPE) accreditors:
Accreditation Council for Pharmacy Education
*CME may be used for renewal points. However, for initial certification eligibility, no more than 5 of the 10 required contact hours may be CME
Note: Candidates who received their nursing education or nursing license outside of the United States, its territories, or Canada must have their education and licensure evaluated for U.S. equivalency by a foreign credential evaluation service.
Online Continuing Education Resources
Earn free or low cost nursing continuing education (CE) from many websites, journals, and organizations. Check the accreditation of each offering. Some providers award multiple types of credit and the type of credit may vary among offerings.
American Society of Clinical Oncology (ASCO University)
Annenberg Center for Health Sciences
Association of Pediatric Hematology/Oncology Nurses
Axis Medical Education
Boston College Connell School of Nursing (Including Stand Up to Cancer offerings)
Centers for Disease Control (Training and Continuing Education Online)
Clinical Care Options
Homestead Schools
i3Health
InPractice
JADPRO Live (Online Educational Activities)
Leukemia and Lymphoma Society
Lippincott Nursing Center/CE Connection
MedPage Today
Medscape
Mycme.com
National Cancer Survivorship Resource Center E-Learning Series
National Comprehensive Cancer Network
NetCE
Nurse.com
The Oncology Nurse
Oncology Nurse Advisor
Oncology Nursing News
Oncology Nursing Society
Oncology Times
Optum Health Education
PearlsReview
PeerView Press
Physicians' Education Resource
Pri-med.com
Prime Inc.
Prime Oncology
Research to Practice
RN.com
Society for Translational Oncology (The Oncologist)
Western Schools
Wild Iris Medical Education
Wiley Health Learning
Journals
Clinical Journal of Oncology Nursing
Journal of Pediatric Oncology Nursing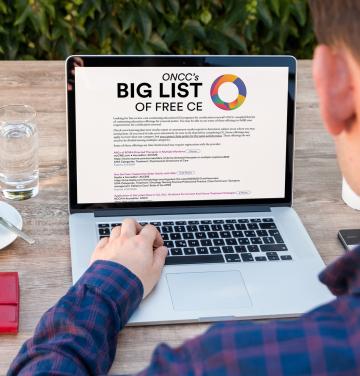 Big List of Free CE
ONCC releases a monthly Big List of Free CE with up to 30 free offerings that are categorized for certification renewal.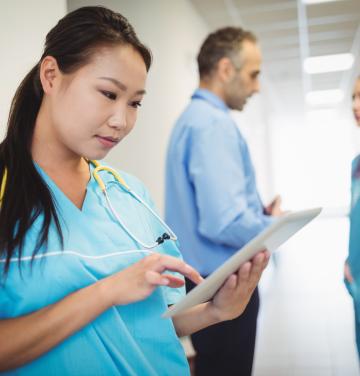 Example Topics by ILNA Subject Area
Looking for continuing education opportunities in specific subject areas? Check out these examples of session topics that would apply to the corresponding ILNA subject areas.
Customer Service
We're here to help.
Email us or Call
877.769.ONCC (US and Canada only)
+1 412.859.6104 (International)